Puzzles Galore Magazine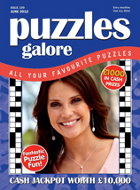 Puzzles Galore is a monthly subscription only magazine full of fun and challenging puzzles - including 36 cash prizes. The magazine is delivered by mail only so is not available through newsagents. Puzzles include Crosswords, Wordfits, Code Word Puzzles, Clockwords, Jig Fits, Skeleton Puzzles, Wordsearches, Anagram Crosswords and lots more. Recently celebrated it's 100th edition.
Click here for Puzzles Galore Magazine
If you like Puzzles Galore Magazine, here's some more competition magazines you will like.
The Competition Entry Service
Now you can enter over 500 competitions a year - without lifting a finger. And with Prize Focus you know a win is going to be a big one! Join here -> Automatic Competition Entry Service